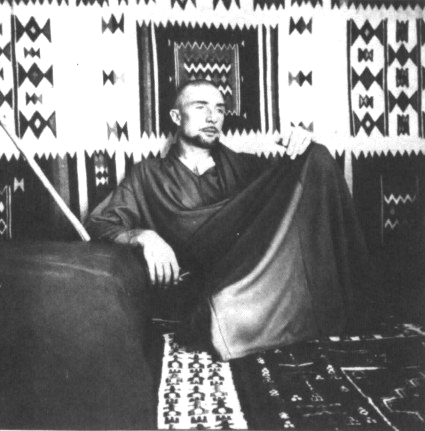 In 1951, the American writer Paul Bowles and the Canadian painter Brion Gysin travelled to a Sufi music festival in Sidi Kacem, a couple of hours from where they were living in Tangier.
When he heard the Masters, Gysin said he wanted to listen to their music every day of his life. In Tangier, he met Mohamed Hamri, a would-be painter from Joujouka. When Hamri took Gysin to Joujouka, Gysin discovered to his astonishment that the music he'd fallen in love with was played by Hamri's uncles.
Gysin and Hamri opened a restaurant in Tangier called The 1001 Nights and members of the Masters became the house band. It was here that legendary Beat figure William Burroughs first heard the music.
In the late 1950s Gysin and Burroughs lived in the Beat Hotel at 9 rue Git le Couer, Paris. Here Gysin invented the Cut-Up Method of writing and theDreamachine with Ian Somerville and worked with Burroughs, Somerville and filmmaker Antony Balch in Cut Up film experiments to a soundtrack of the Masters Musicians made by Gysin.
When the Rolling Stones were in Tangier in 1967, Hamri and Gysin met them and Hamri formed a bond with Brian Jones. Brian went to Joujouka, where he, too, fell in love with the Masters' music, although he said 'I don't know if I possess the stamina to endure the incredible, constant strain of the festival'.  He returned in 1968 to record the Masters.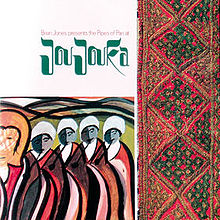 Before he died in 1969, Brian had prepared the cover, and edited and produced the album of recordings he made of the Masters. Brian Jones Presents the Pipes of Pan at Joujouka was released in 1971, honouring Brian's memory and exposing a wider audience to the remarkable music of the Masters for the first time.
In January 1973, jazz musician Ornette Coleman recorded with the Masters. A small part of what was recorded was released on the 1975 album Dancing In My Head album.  Also in 1975, Hamri's book Tales of Joujouka was published.
Thanks to Rikki Stein, the Masters played at Worthy Farm, the site of Glastonbury, for the first time in 1980 as part of a three-month tour which included a week's residency at London's Commonwealth Institute.