The Master Musicians of Joujouka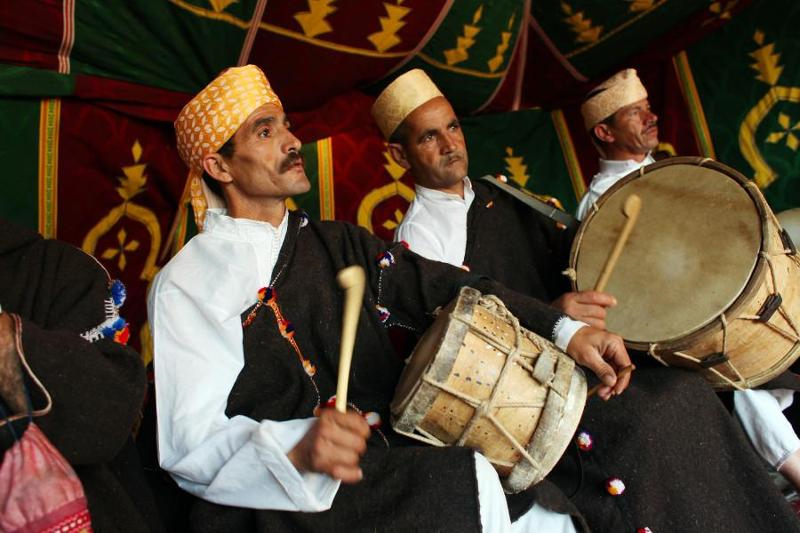 Spectacles et concerts
14 septembre 2016, à 20h30 (1h30)
Grande salle – Centre Pompidou, Paris
18€ / TR 14€
Joujouka est un village isolé situé dans la région Ahl Srif, au nord du Maroc, où se crée cette musique remarquable issue d'une tradition soufi millénaire. En 1951, l'artiste Brion Gysin découvre cette musique à Tanger. Ebloui, il affirme vouloir l'écouter tous les jours pour le reste de sa vie, et la partage avec William S. Burroughs, qui les appelle un « groupe de rock n' roll vieux de 4000 années ». Le pouvoir hypnotique et transcendantal de cette musique fascine les personnalités de la Beat Generation et alimente leurs recherches artistiques. Cette rencontre interculturelle donnera lieu à plusieurs collaborations musicales, dont un célèbre enregistrement avec Brian Jones des Rolling Stones en 1969.
En écho à l'exposition Beat Generation, douze musiciens et un danseur interprètent ce soir cette puissante expérience polyrythmique aux frontières de la transe. Les douze musiciens sur scène – dont sept ghaita, un instrument à vent – sont accompagnés d'un danseur qui incarne le rôle de Boujelod, une figure chamanistique, mi-chèvre, mi-homme, associée aux rites de fertilité, qui apporte le don de la musique, à travers une expression corporelle intense.
The Master Musicians of Joujouka : Ahmed El Attar; Mustapha El Attar; El Khalil Radi; Abdeslam Boukhzar; Ahmed Talha; Abdeslam RRtoubi; Abdellah Ziyat; Ali Ezouglali; El Touhami Talha; Mohamed El Attar; Mohamed Mokhchan; Mohamed El Hatmi; Ahmed Talha 
Producteur : Frank Rynne / The Master Musicans of Joujouka
Producteur délégué : Rikki Stein / Calm Before The Storm Ltd. 
Remerciements : Ministère de la culture, Province de Larache, Royaume du Maroc et le Caid de Tatoft.
Organisateur : DDC / Les Spectacles vivants, Serge Laurent