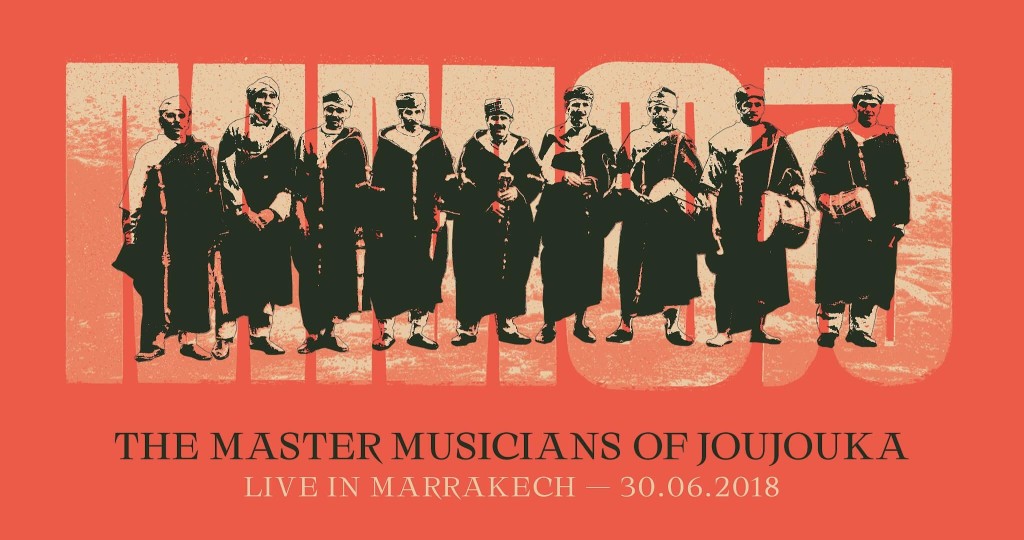 For the first time in decades the Master Musicians of Joujouka will headline their own concert in Marrakesh on Saturday, 30th June 2018.
The concert, presented by Atlas Electronic, will commemorate the 50th anniversary of the visit to Joujouka by Rolling Stones founder Brian Jones in the summer of 1968 when he recorded the iconic Brian Jones Presents The Pipes Of Pan At Joujouka LP (released by Rolling Stones Records in 1971).
The Masters Musicians Of Joujouka will play a 4-hour rhaita set and perform Boujeloud with live visuals by Joachim Montessuis.
The venue is an 800 seat open air amphitheatre in the beautiful setting of the Villa Janna eco village, in the Palmerie district of the ancient city.
Joujouka Interzone trailer:
Atlas Electronic:
Amid the rolling hills of Northern Morocco, a secluded village is home to the original music and current members of the Master Musicians Of Joujouka. It is here in Joujouka, that the Attar family preserves one of the oldest known musical traditions on the planet.
In the late 60's Brian Jones, from The Rolling Stones, visited and consequently paid tribute to the sounds he encountered in Joujouka. In 1968 he recorded an album with The Masters called 'Brian Jones presents the Pipes of Pan at Jajouka' exposing a wider audience to the enchanting music for the first time. This year marks the 50 year anniversary of this visionary moment of cross-cultural collaboration.
On Saturday the 30th of June, to celebrate this iconic anniversary and pay homage to the ancient sounds of Morocco, we are honoured to present MMOJ at our festival site, Villa Janna for an exclusive 4-hour live concert in the compelling amphitheatre.
Marrakesh international airport is served by multiple international carriers and Marrakesh is accessible by train from major Moroccan cities Fez, Casablanca, Rabat and Tangier with bus links from Essaouira and Agadir.
Tickets:
International tickets: www.residentadvisor.net/events/1109190
Moroccan tickets: bit.ly/mmoj-tickets-morocco
More information on the Atlas Electronic website / Facebook event page