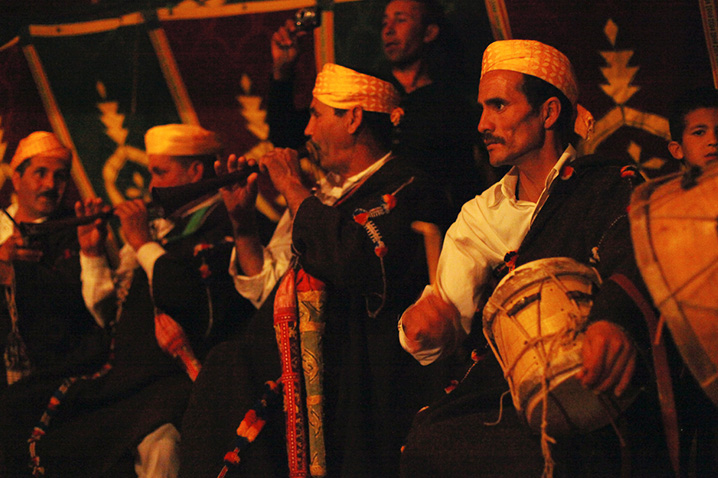 The Master Musicians Of Joujouka have been announced for a headline show at the Beat Hotel Marrakech festival – taking place 28th to 31st March 2019 in Morocco.
The Master Musicians Of Joujouka will headline the opening night for this exciting new venture in sound on 28th March.
The festival is named after the Beat Hotel at 9 Rue Git-Le-Couer in the Latin Quarter of Paris, where notable residents included Brion Gysin and William S. Burroughs in the 1950s-1960s.
Before moving to Paris, Gysin had spent the early 1950s in Morocco, where he worked with the Master Musicians Of Joujouka, who had a residency at The 1001 Nights restaurant in Tangier from 1954.
The original Beat Hotel is where Gysin introduced Burroughs to the 'cut-up' writing technique and collaborated with Ian Sommerville on the dreamachine and audio tape cut-ups.
Master Musicians Of Joujouka Manager Frank Rynne will present a talk 'Meet The Dreamachine' at the Beat Hotel Marrakech festival.
William S. Burroughs biographer and counterculture writer Barry Miles will talk on 'Morocco, The Beats & The Late '60s'.
The Beat Hotel in this incarnation was launched at Glastonbury Festival in 2011 – the year the Master Musicians Of Joujouka performed on the Pyramid Stage.
Beat Hotel organisers said: "Taking inspiration from its namesake, and acting as a welcoming sanctuary for anyone who stumbled inside, The Beat Hotel opened its doors at Glastonbury Festival in 2011.
"In March 2019, the story continues, as the Beat Hotel follows the original Beats to Morocco, for a four-day sojourn in Marrakech. Taking place 15 minutes outside the city, and set across a 27-acre, palm tree-laden boutique resort, the Beat Hotel Marrakech brings together a line-up of live music and DJs, one-off culinary collaborations and a talks programme featuring some of today's great minds and voices."
The festival will be held at Fellah Hotel, located a short drive from Marrakech city centre.
For more information and to book tickets visit The Beat Hotel website