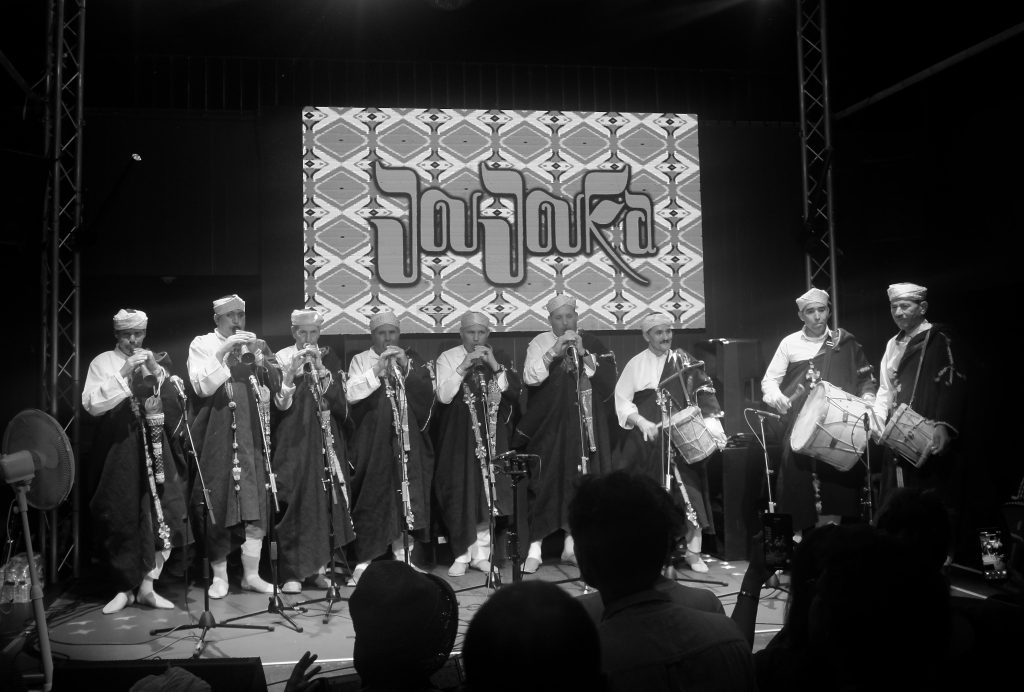 Chris May at The Forge in Camden on 21st June for the second of the Master Musicians' two-nights in Camden.
The Master Musicians of Joujouka began their UK tour last week with two shows at The Forge in Camden, ahead of their Pyramid Stage opening set at Glastonbury Festival.
Over two nights packed crowds enthusiastically welcomed the Moroccan group playing their first concerts in London since 1980.
A review published in All About Jazz reported on the second night of their London residency.
Writer Chris May said: "The size of the Master Musicians' lineup is flexible. In Joujouka itself, the ensemble runs into several dozen. At The Forge it was nine musicians and a dancer, the largest number the stage can agreeably accommodate. The intensity was off the scale. Six double-reed rhaita players and three drummers jammed, without a break, for two high-decibel, elemental hours, as measured in earth time. For the last half hour, they were joined by a goatskin-clad shaman channeling Bou Jeloud, a.k.a. Pan, who struck the shoulders of every audience member within reach with a couple of leafy branches. In Joujouka, Bou Jeloud's touch is believed to transmit fertility."
There was a link to the organisation of events in 1980. May said: "Frank Rynne, who, together with Rikki Stein, presented tonight's performance at London's Forge, the second of two gigs at the club prior to an appearance on Glastonbury's Pyramid Stage at the end of the week. Stein is the first promoter to have taken the Master Musicians on tour outside Morocco. He lived in Joujouka from 1971 to 1973, when amongst much else he helped facilitate Ornette Coleman's visit to the village to make the recordings which later appeared on the album Dancing In Your Head (Horizon, 1977). In 1980 Stein toured the Master Musicians through mainland Europe and Britain, where the itinerary included Glastonbury and five evenings at London's late lamented Commonwealth Institute. Since then, together and separately, Stein and Rynne have ensured they keep the Joujouka experience authentic.
"Everybody is different, but one way of tuning in to the Master Musicians is to anchor yourself to the resonant beat of the bass drum, keeping it as your rock while the rhaitas morph from riff to riff and the higher pitched drums adjust tempos and displace rhythmic accents. Whatever technique you use, if you are fortunate you will end up feeling cleansed and refreshed. However tonight's audience members got there, it was clear the message had been received."
Read the review in full at All About Jazz here
Upcoming events
Joujouka 24 Festival 7-9 June 2024
Tickets limited to just 50 spaces
More information here
*** SOLD OUT *** For more information and to be added to standby list, email joujouka@gmail.com with the heading 'Joujouka 24′