An exhibition featuring a collection of paintings by Mohamed Hamri, who was also known as 'Hamri – The Painter of Morocco', are on display at the Tangier American Legation in Tangier Medina.
The exhibition, originally scheduled to run between March and June this year, was postponed due to the museum's closure during the Covid-19 pandemic amid lockdown measures in Morocco.
Following the museum's re-opening on 22nd July there is a further opportunity for visitors to see this collection of the artist's work for an extended period until 19th September.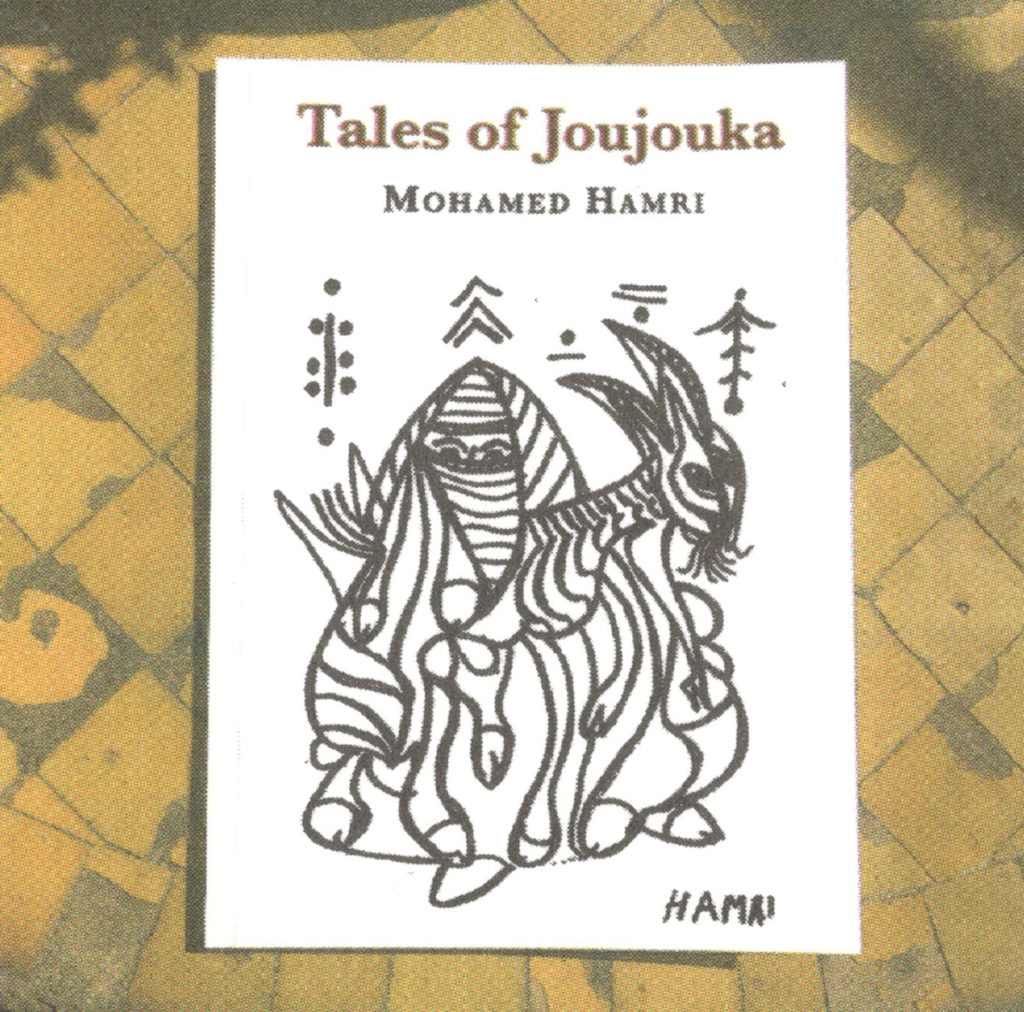 To coincide with the exhibition a newly revised edition of Hamri's book Tales of Joujouka has been published. The book features Hamri's stories and folk tales from his home village of Jajouka.
The book was originally published in 1975 by Capra Press in California. It was translated from Darija by his wife Blanca Hamri.
A statement from the Tangier American Legation Institute for Moroccan Studies said: "We are happy to announce that the Legation's Museum and Research Library will both reopen to the public on Wednesday, 22nd July. We will adhere to all of the government's reopening guidelines, including requirements of all visitors to wear masks, have their temperatures checked at the door before entering, and other safety and hygiene measures.
"We are also very happy to inform you that Blanca Hamri has graciously consented that our 'Hamri Revisited' exhibit, which was set for March — June, will be extended another two months, so we invite you to come see the works and a retrospective of this major 20th century Moroccan artist. You may also purchase copies of Hamri's newly reissued book, Tales of Joujouka.
"Thank you very much for your support."
Exposition en hommage à l´artiste-peintre Mohamed Hamri / Exhibition in tribute to the artist-painter Mohamed Hamri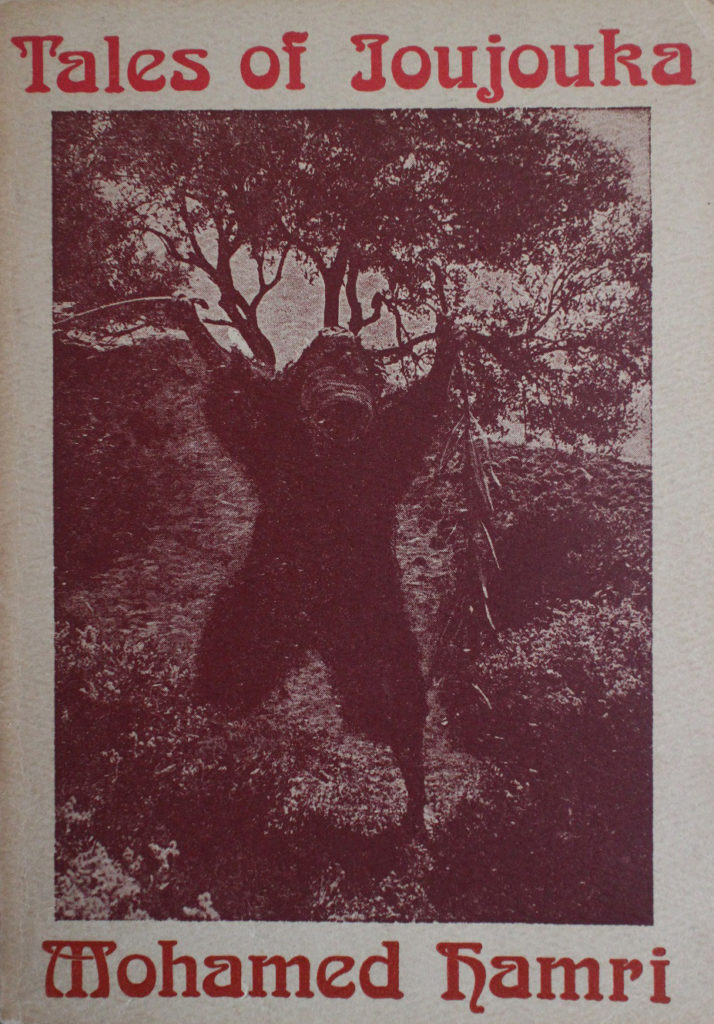 Mohamed Hamri (1932-2000) was a Moroccan artist born in the village of Joujouka. As a child among the first sounds he heard were the pipes and drums performed by the Master Musicians of Joujouka.
By the late 1940s Hamri was bringing groups of his family's Musicians to Tangier playing music on the trains.
In 1950 Hamri encountered Paul Bowles and soon met Brion Gysin who would become his mentor and introduced him to the works of cubist and surrealist artists such as Picasso, Dali and Braque.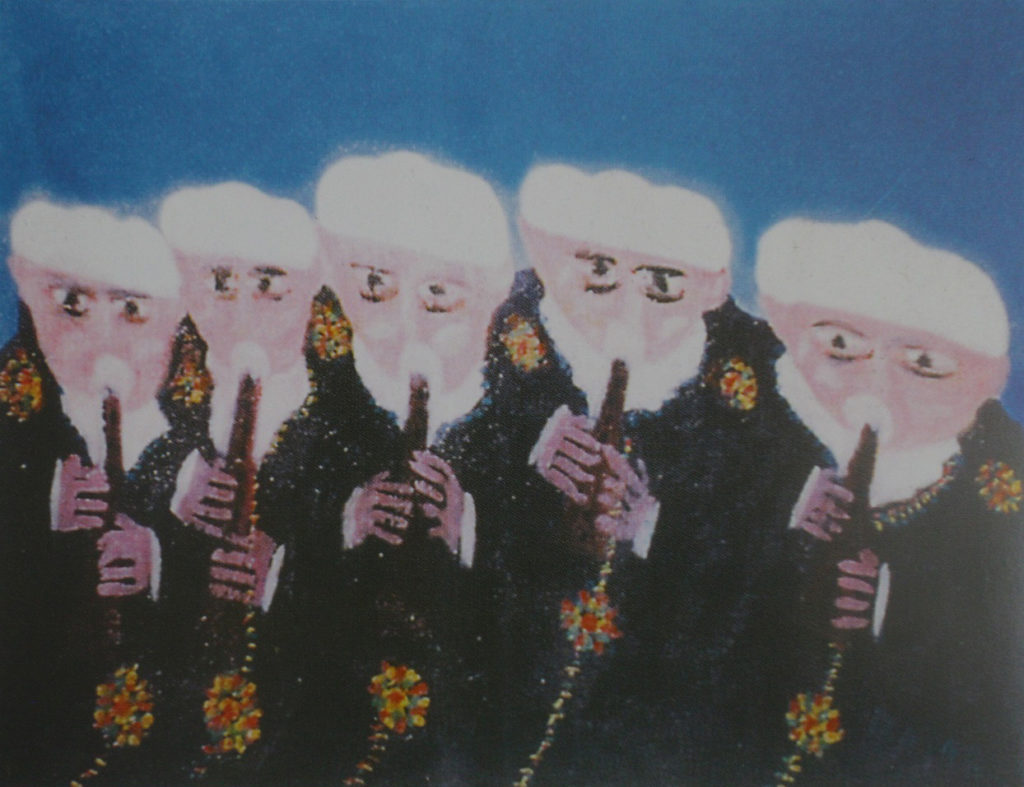 Hamri was first exhibited in 1953 at the gallery of the Hotel Rembrandt in Tangier.
To coincide with the exhibition Gysin wrote an essay, 'The Innocent Painter', which was published in The Tangier Gazette.
Gysin stated: "He [Hamri] was given the best of materials with which to work, right from the start, and good materials are dear, but no real painter can work with poor materials. He began to draw with India ink on good paper, and then was given the very best brand of pastel with which to colour his drawings. Later he was shown how to use gouache but told to employ it as he thought best. His first oils were done on boards with the tricky enamels which few painters but Picasso have used. Yet nothing intimidated him: he was at once able to destroy what he thought unsatisfactory, and do it better next time. He made the painter's discovery that the paint seems to work itself and become a living thing with which the painter struggles until he can "bring it off" with the aplomb of a bare-back rider. Most recently he has begun to work on canvas with great effect. "Why, it's just like cooking" he exclaimed delightedly, and he was not the first painter to find that out."
Further exhibitions of Hamri's work followed internationally throughout the 1950s in Grand Canaria, Madrid, New York, Düsseldorf and Berlin.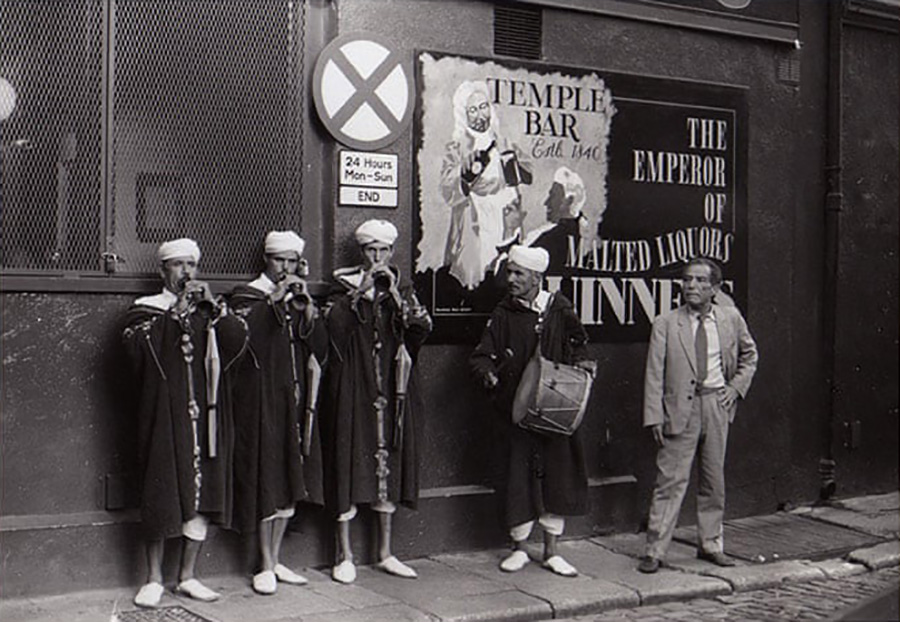 After meeting Hamri, Gysin was soon introduced to the music of the Master Musicians of Joujouka, of which he said, "I just want to hear that music for the rest of my life."
In 1954 Gysin and Hamri opened the 1,001 Nights restaurant in a wing of the Menebhi Palace in Tangier where a group of visiting Master Musicians of Joujouka played every night.
Hamri's close association with the Master Musicians of Joujouka continued after the closure of the restaurant in 1958. In 1962 he founded the Association Serifiya Folklorique de Joujouka.
Hamri became friends with Brian Jones, the founder member and lead guitarist of The Rolling Stones, in the mid-1960s.
In August 1968 he organised the trip to the village for Jones which resulted in the LP, Brian Jones Presents The Pipes Of Pan At Joujouka, released in 1971 on Rolling Stones Records. The gatefold sleeve artwork for the album featured Hamri's painting of Brian Jones the Master Musicians of Joujouka.
Hamri also organised the 1973 visit of Ornette Coleman to the village. Coleman's collaboration with the Master Musicians of Joujouka featured on the album Dancing In Your Head.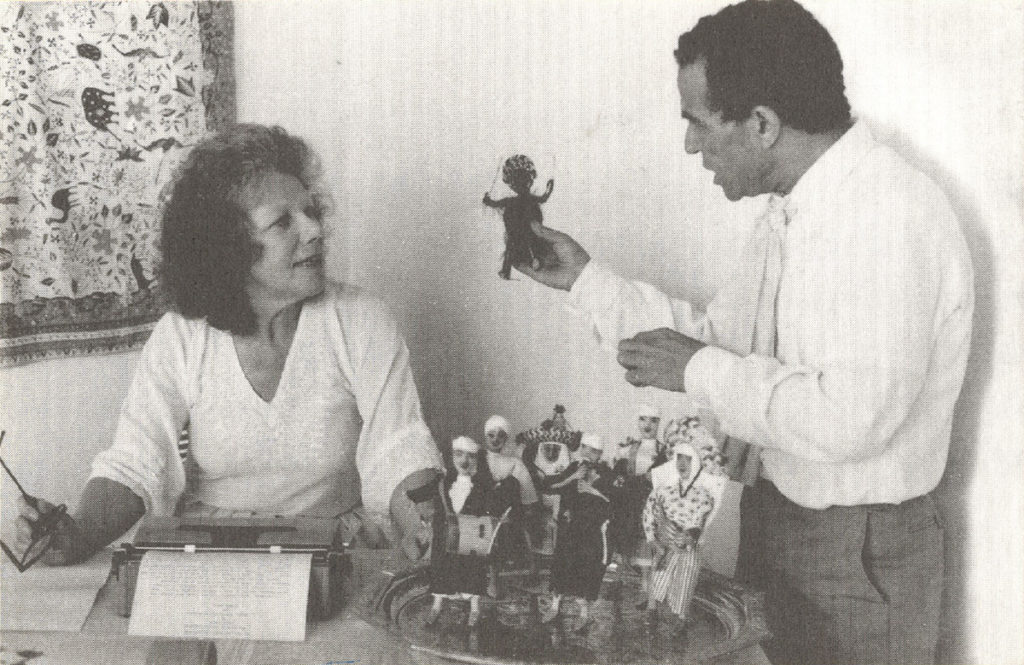 Hamri collaborated with his wife Blanca to tell the stories of the music from Joujouka in the Tales of Joujouka collection, published by Capra in 1975 and originally serialised in Le Journal De Tanger.
In 1992, Hamri was invited with the Master Musicians of Joujouka to appear at the Here To Go Show in Dublin, celebrating the work of Gysin and William S. Burroughs. The event was organised by Frank Rynne, who is now the manager of the Master Musicians of Joujouka, having worked closely for many years with Hamri.
Rynne said: "Two years later I went to Joujouka with Hamri. I didn't know what to expect but hoped to get a few tapes of them playing while relaxed. I spent over one month in Joujouka and got to hear music I couldn't believe existed."
The Rynne-produced Joujouka Black Eyes album (1995) includes 'Brahim Jones Joujouka Very Stoned' – a song composed by Hamri.
In 1974, William S. Burroughs said of Hamri's artwork: "The djinoun spirits of Morocco whisper and ripple and frolic through Hamri's paintings… scattering light over fruit trees, sunflowers, walls and fields, pelting the streets of Tangier with winter rain. You can breathe all the magic of Morocco from these canvases, the pipes of Pan that make perfume in the air."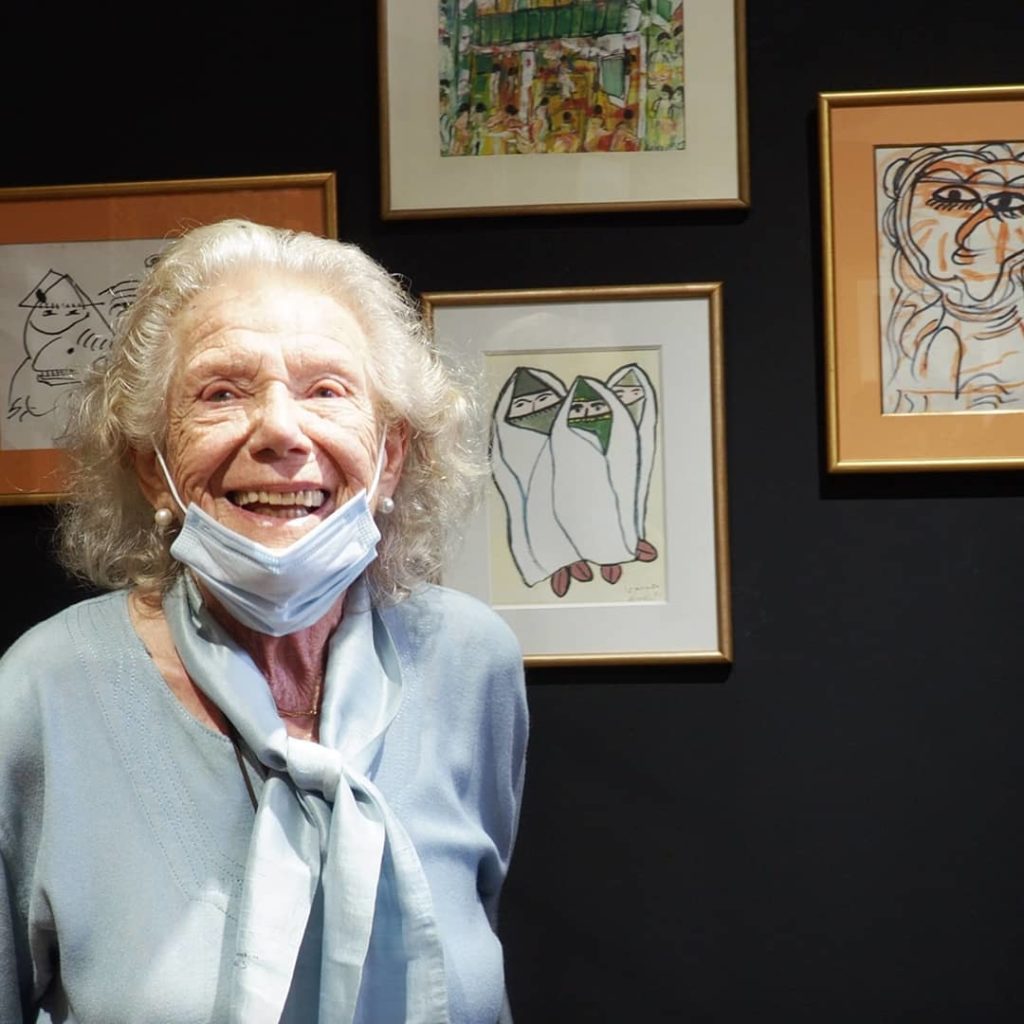 Blanca Hamri said: "Once upon a time, when the world was young, a small boy sold sweet cakes in the mountain villages. He rose at dawn, picked up the trays of fresh baked pastries from the widow he worked for and mixed vegetable colors into the frosting, swirling them into patterns. He learned that bright and clear colors were the most attractive and enjoyed mixing lovely shades of pink, blue, green and yellow. He then got on his donkey with straw panniers full, and rode from village to village hawking his wares.
"Did he dream that one day he would be a famous painter and have books written about him? I do know that it wouldn't have surprised him in the least. After all, it is all written, and all one can do is embrace it with an open heart and hand.
"Here is a door to the story of an artist, music master, great chief and storyteller whose life and work were full of blessing, much laughter and tears, and a total conviction that it is an honor to be alive and live in Morocco."
John Davison, Director at the Tangier American Legation Institute for Moroccan Studies, said: "We're grateful that Blanca Hamri allowed us to extend the exhibit through late September. The museum is open Mondays-Fridays from 10am to 5pm and Saturdays from 10am to 3pm. It is closed Sundays and Moroccan holidays. Entrance fee 20 dirhams; guided tours 50 dirhams per person."
For more information visit the Tangier American Legation website
For anyone unable to travel to Tangier a virtual tour of the museum, including the Hamri Revisited exhibition, can be viewed here
The 2020 edition of the Master Musicians of Joujouka annual festival in the village has been postponed due to the Covid-19 pandemic. The group have been unable to work since March. During this period all proceeds from digital download sales of the Into The Ahl Srif album will be donated to the Master Musicians of Joujouka.
The album is available now to listen and download from the Ergot Records Bandcamp page: ergotrecords.bandcamp.com/album/into-the-ahl-Srif
More information about the Into The Ahl Srif album here
For latest news on the 2020 festival and updates on rescheduled dates when available visit here