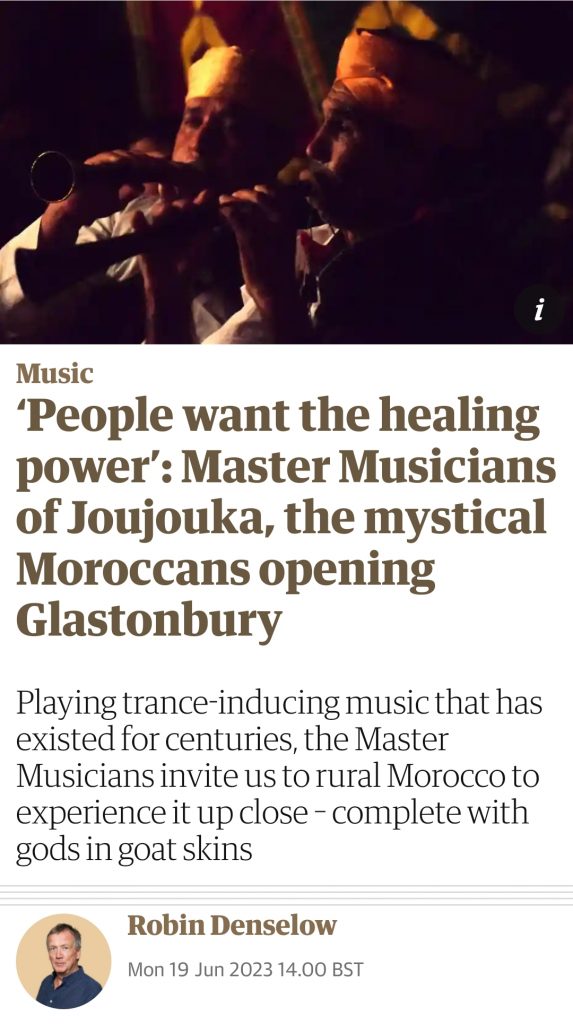 The Master Musicians of Joujouka's festival opening appearance on the Pyramid Stage at Glastonbury is previewed in the Guardian.
Robin Denselow reports from the festival in the village earlier this month.
Read the full article here ahead of the group's first night in London as part of a two night residency at The Forge, Camden (20th and 22st June).
The article said: "It's two in the morning in the little village of Joujouka in the Ahl Srif mountains of Morocco, and surely the oldest and loudest acoustic band on the planet are celebrating the god Pan – who still holds sway here, in an uneasy alliance with Islam – while also warming up for Glastonbury, where they will open the Pyramid stage this weekend."
Tuesday, 20th June – The Forge, London
Wednesday, 21st June – The Forge, London
Tickets for both London concerts available here
Friday, 23rd June – Pyramid Stage, Glastonbury Festival
More information here
7-9 June 2024 – Joujouka 24 Festival
More information at: www.joujouka.org/the-festival/
*** SOLD OUT *** For more information and to be added to standby list, email joujouka@gmail.com with the heading 'Joujouka 24'