Pick up a copy of the July 2021 edition of The Wire to read their verdict on Live in Paris by the Master Musicians of Joujouka.
The recently released Live in Paris album by the Master Musicians of Joujouka is reviewed in the July 2021 edition of The Wire magazine – out now.
Phil Freeman writes:
"This album features the original Joujouka group and was recorded at a 2016 concert that was part of a Beat Generation exhibit at the Centre Pompidou in Paris. It begins with five relatively concise pieces running between four and nine minutes each, but concludes with a massive 44 minute performance of "Boujeloud", a ritualistic suite performed in tribute to the god known elsewhere as Pan. In addition to the pounding drums and intricate handclapping, cadences, call and response vocals, and shrill flutes and reeds, Sheik Ahmed Talha takes numerous lengthy solos on the kamanja – a violinlike instrument played while being held vertically, perched on the player's knee.
"Lead vocalist Abdeslam Boukhzar and backing vocalist Mustapha El Attar have died since this performance, which only adds to the feeling that one is hearing something not only ancient, but somehow imperilled. But when the music is surging and roaring around you, it's hard to feel anything but thrilled and alive; somewhat surprising, given its desert origins, it can feel like being swirled around in the ocean."
The Wire July 2021 edition is available now from all good newsagents
More from The Wire – Listen to live recordings from the 2019 Master Musicians of Joujouka festival here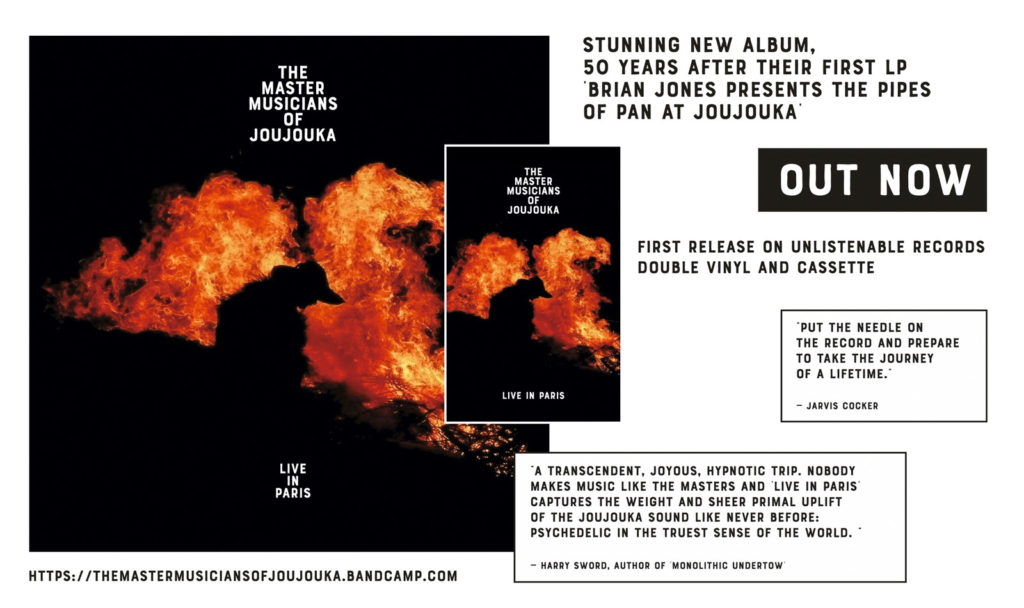 More recent reports for Live in Paris:
Live in Paris album review published on Ele-King in Japan
James Hadfield writes:
"I'm confident in saying that nothing has kicked out the jams quite as emphatically as "Live in Paris," which captures a 2016 concert at the Center Georges Pompidou, held as part of an exhibition dedicated to the Beat Generation.
"Short of catching the group live, this is trance music in its purest form―sounds to lose yourself in, surrender to― and my only criticism of the vinyl edition is that you have to turn the damn thing over halfway through."
Read the report in full translated in Japanese and English here
Live in Paris double gatefold LP release is available now from all good record shops
For downloads and limited edition cassette visit Unlistenable Records on Bandcamp