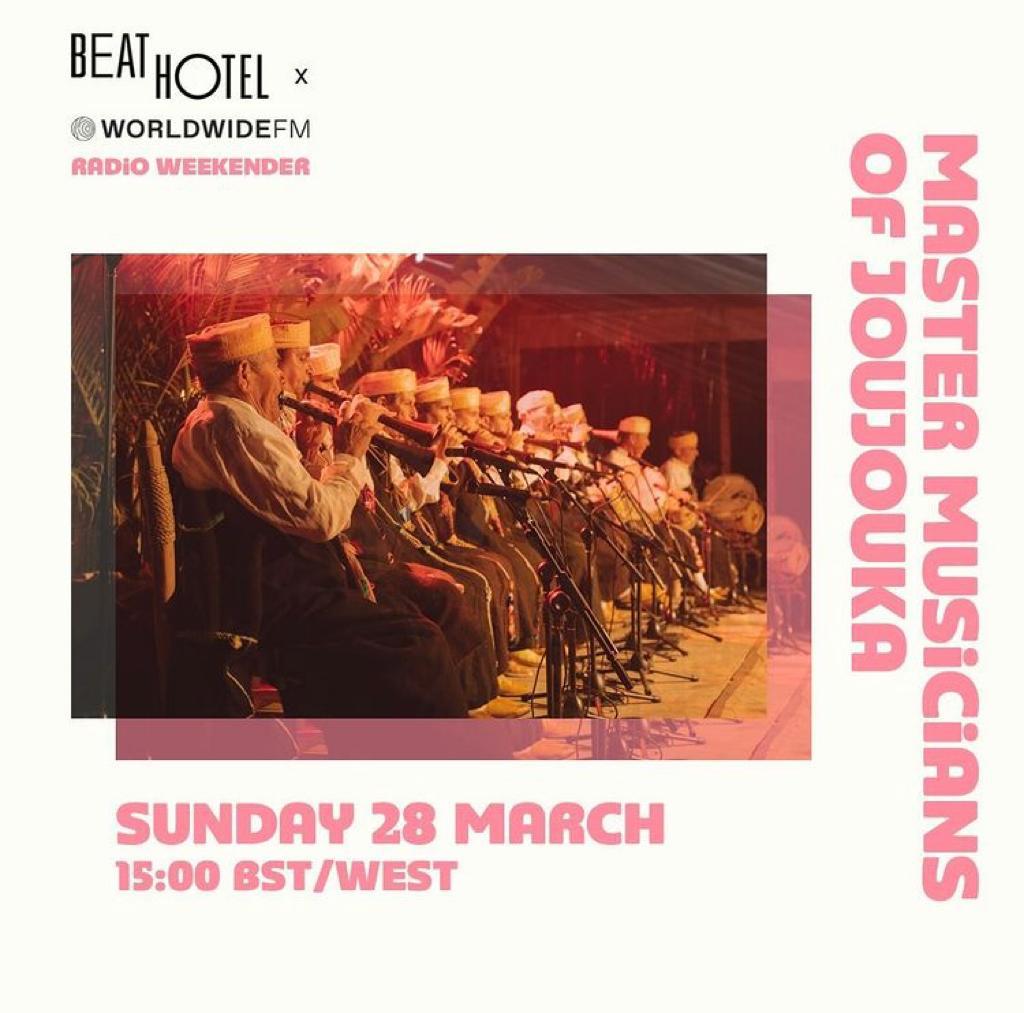 Tune in to Worldwide FM this weekend to hear excerpts from the Master Musicians of Joujouka's new LP Live in Paris.
From Friday, 26th March to Sunday, 28th March the Beat Hotel will be taking over the airwaves with a Morocco Special on Worldwide FM.
Moroccan music will be featured on three special shows over three days this weekend, including excerpts from the upcoming LP from the Master Musicians of Joujouka – Live in Paris.
The Master Musicians of Joujouka will be featured on the Beat Hotel x WWFM Weekender on Sunday, 28th March – to be broadcast from 3pm to 7pm (BST).
A statement from the Beat Hotel said: "Sufi trance troupe, Master Musicians of Joujouka are descendants of Burroughs' in-house band at Cafe 1001 in Tangiers in the 1950s. We're excited to share an excerpt from their forthcoming live album."
They added: "Remember when March meant gathering poolside, between the prickly pears, for a weekend of ritual celebration? Our chance to dance under the rose-red desert sky?
"To mark the moment, we've joined forces with our friends at Worldwide FM, to take you on a trip back south.
"Three shows over three days, celebrating the sounds of Morocco and beyond…"
The series of broadcasts includes sets from Gilles Peterson selecting music by Moroccan artists from his collection, plus live sets from Moulay Ahmed El Hassani, Coco Em and Esa & Mim Suleiman.
Beat Hotel x WWFM Weekender – More information on the Beat Hotel website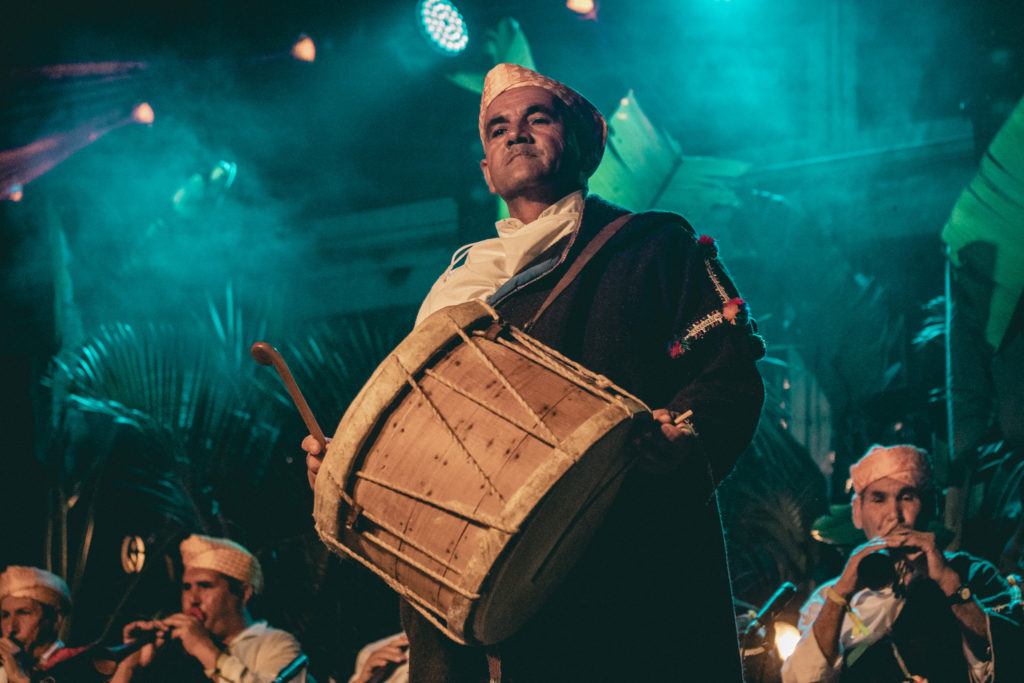 The radio show follows the Master Musicians of Joujouka appearance at the 2019 Beat Hotel Festival in Marrakesh.
The roots of the Beat Hotel also have close connections with the Master Musicians – named for the famed 9 Git-Le-Couer address Paris base of Brion Gysin and William S. Burroughs in the 1950s and 60s following their time spent in Morocco working with the Master Musicians.
Before moving to Paris, Gysin opened The 1001 Nights restaurant in Tangier, where the Master Musicians of Joujouka held a residency as the house band.
This incarnation of the Beat Hotel was launched at Glastonbury Festival in the UK in 2011 – the same year the Master Musicians of Joujouka opened the festival on the Pyramid Stage. At their first event in Morocco, the Beat Hotel continued the literary and artistic creativity associated with its namesake.
Tune in at www.worldwidefm.net from 9.15am (BST) on Friday, 26th March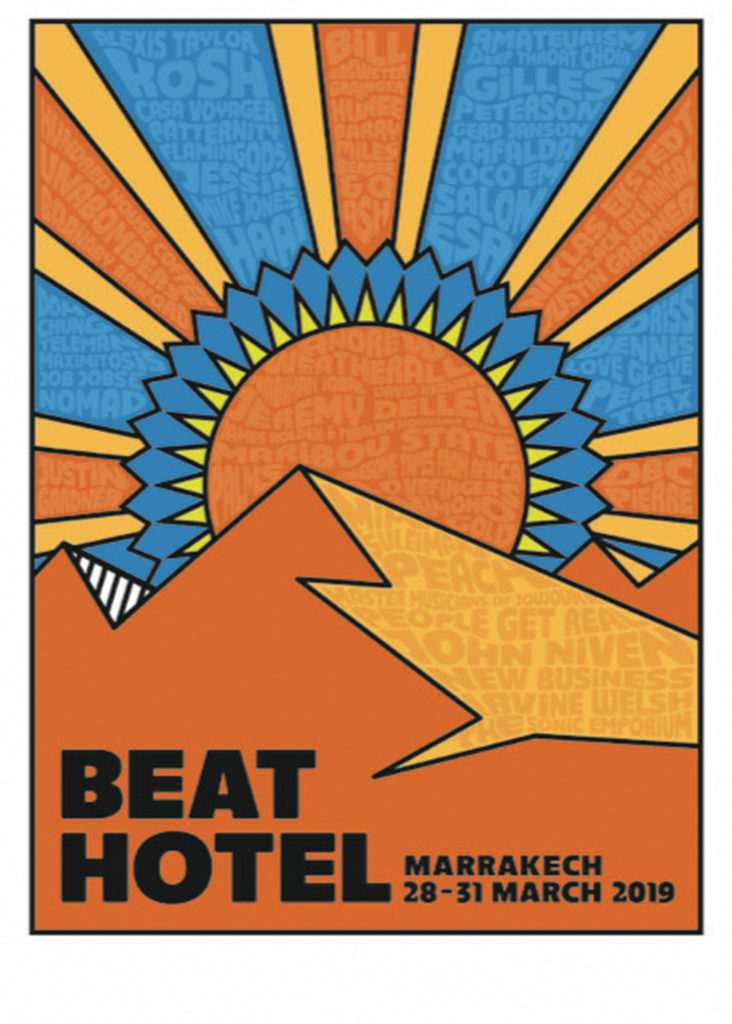 Photo gallery from the Master Musicians of Joujouka appearance at the 2019 Beat Hotel Festival in Marrakesh here
Listen to 'Jahjouka I Calihone' from Live in Paris here
Live in Paris is released on 23rd April by Unlistenable Records